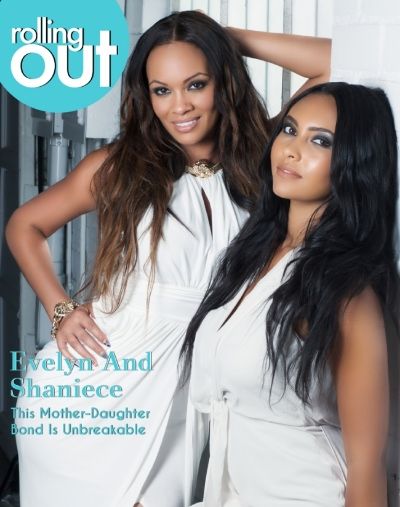 Just in time for Mother's Day, Basketball Wives star, Evelyn Lozada, covers the latest issue of Rolling Out Magazine along with her 19-year-old daughter, Shaniece.
Besides taking some gorgeous pictures for the publication, the mother/daughter duo open up about their tight-knit relationship, including how Ev's domestic abuse situation helped bring them even closer.
Tell us about the bond between the two of you. You really seem to genuinely enjoy spending time with each other.
Shaniece: I enjoy her company a lot; she's my best friend.

Evelyn: Yeah, we are best friends … especially over the past eight, nine months, where we have been connected at the hip. We are always together, and even when one of us is away, we constantly check in with each other. But that's how it has always been between us since the beginning. Even though I had her young, I always made sure that she knew I was mom, but that she could also come to me and confide in me about anything. So yeah, we're besties.
Shaniece, as you reflect on the relationship that you have with your mother, can you think of a time when you were really proud of her, and were proud that she was your mother?
Shaniece: When she left her domestic abuse relationship, I was really proud of her. I felt like she stood up for herself, and I think that she set a good example for other women. I knew that she had it in her, but I don't think that everyone else did, so I'm really proud of her for that.
Before this moment, have you let her know how proud of her you are for that?
Shaniece: Yeah, she knows … and we've been together since then.

Evelyn: We were literally together for eight months since that happened [crying] … I even slept with her. After everything happened, and my life was upside down, it was tough because I had to live all of that out in the public … everybody had an opinion, and even now I'm sure there will be some people who say "b—-, you're still crying over that?" … but she went through that with me from the beginning. She went to the hospital with me.

Shaniece: It was crazy, because I wasn't even supposed to be there. I was living in L.A. and she was living in Miami, and I just happened to be there when it happened.

Evelyn: She was on vacation, and she was home when the situation happened, and it was very humiliating for me to have her see me like that. It was probably one of the biggest low points of my life — especially because I'm so protective of her. I'm mom, and I'm supposed to be strong, so it was hard to have her see me like that … so we were literally connected at the hip from that point on.
You can check out the full Q&A session over at Rolling Out, and make sure to peep the photos from the issue below.
Share
Tweet