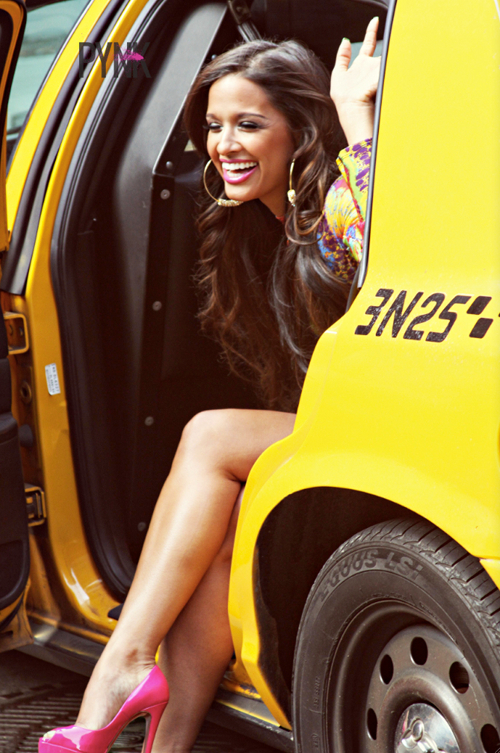 After leaving 106 & Park, Rocsi Diaz has relocated to Los Angeles for a new gig at Entertainment Tonight, and now the host is saying her goodbyes to New York (and BET) in a new photo shoot for PYNK Magazine.
In her sit-down with PYNK, Miss Diaz talks about everything from her career to her fashion sense, and even a little about her personal life.
You have moved on from BET. How do you feel?
I am very excited because BET was a great chapter in my life and I loved every minute of it, but I am looking forward to the next chapter.
Did you always want a career in entertainment?
No – not at all. Every little girl dreams about being an actress one day or something like that but I was the complete opposite. I wanted to be a whale trainer and swim with them and everything. It wasn't until college that I became interested in entertainment and radio.
What can people expect from Rocsi in the future?
There are a lot of things going on, I am writing a script. I have the first one done and I am so excited.
How would you describe your style?
My style is casual chic, I like to pair jeans and t-shirts with amazing heels. If I am attending a special event, I like to keep it very lady-like.
Who's your favorite shoe designer?
Christian Louboutin.
Where are your favorite places to shop?
I shop a lot at Intermix. Shopbop.com is one of my favorite online shopping sites.
Let's talk about love and relationships. Do you think it is harder to date men in the industry or a regular guy?
Both have advantages and disadvantages. Some people want to date someone in the industry because that person will understand the day-to- day. Sometimes, you might want a regular guy because it will help maintain a certain sense of privacy. To each her own, really.
Do you think it's hard to date when you're a celebrity?
I think guys will be intimidated when you are in this industry. So for me it is very hard.
You can read the complete interview here, and check out more pics from the spread below.
Share
Tweet
Leave A Response